I have put together a total website package that is a complete all-in-one solution for any business.

We are making this amazing business website package available to a limited number of businesses in select industries at such a low price that you wont find this kind of deal ANYWHERE else!

I am doing this because I want to see your business succeed and I want you to be able to have a professional website for your business without having to spend a whole lot of money.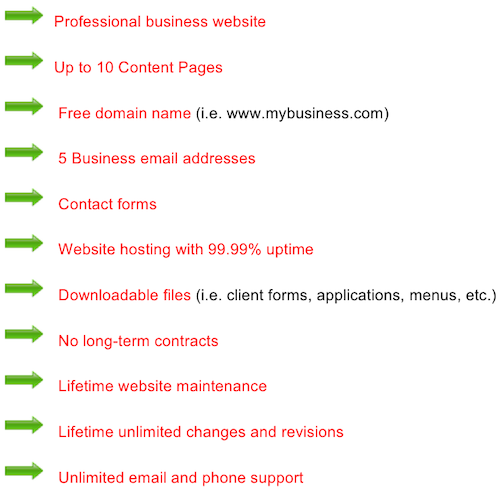 If you are not completely satisfied or if you find any competitor offering what we have put together here for less, we will give you a complete and total refund no questions asked.
I'm not here to sell you on the value of everything you are getting here. This is EASILY over a $500 value that I am giving away for under $50.
This is your chance to have a fully professional business website for your business while we do everything for you, from set up to hosting and maintenance.  It does not get ANY easier than this, so take advantage of this opportunity while it's available, as we will only be able to offer all of these services at this price to a very few limited number of select businesses. We are giving you EVERYTHING for a complete business website solution that gives you more than any other competitor can while saving you a TON of money! If you're reading this page it means this promotion is still available and you should take advantage of it while you still can!
Again, you don't have to lift a finger. You'll have this business website up and running while everything is taken care of for you. This is as hands free as it gets to having your own completely professional high powered website and I am basically giving these packages away at such a low price that I will be making this promotion not available after just a few more sign ups.
For a short time only we are offering this exclusive website package for just $47.99!!

Get your ridiculously low priced website deal here!